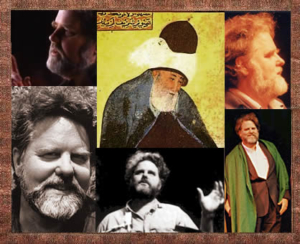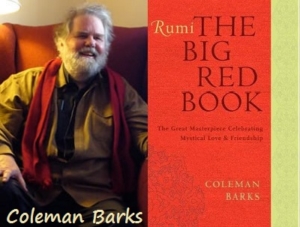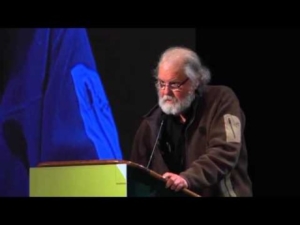 "What an extraordinary performance and experience. I wept and laughed and my heart felt so wonderfully full. Thank you for your exquisite gift. The music and Coleman's readings were just so perfect. Magical." —Julia Bergen, Arts Activist
History: Many expressions of this concert have been performed since 1997. With Coleman Barks and Zuleikha as the inspired core, each vision has reflected a range of musical styles and musicians, always seeking a new lens through which to explore Rumi's work.
Length: Approximately 2 hours long with one 15-minute intermission. An abridged version without intermission is available.
Seating: The Concert can be adapted to proscenium or thrust. If you have an unusual and absolutely fabulous alternative space, indoors or out, we'd like to hear about it.
Appropriate Audience: General audience, including young people, although little ones may get restless.
Technical Overview: Lighting and sound plots will be adapted to your venue's resources for an advance hang. The TD is available for questions, adaptations, and if requested the TD can come to your facility a day or two prior to the Artists to assist. Venues that present dance, theater and music touring groups can usually provide acceptable lighting and sound inventory. If needed, the TD will assist with a rental package from a local vendor you specify.
Special Needs: Musical instruments tour with the Company. Special effects are limited to gobo texture, and very light atmospheric haze. Intelligent lighting may be used when available but is not required.
Set: A construct of standard 4'x 8' and 3'x6' platforms of varying heights with stair units. The set decor is hangings, rugs, tapestries and flowers (all provided).
Stagecrew: An experienced light board and board programmer/Op is required, same for sound. 4 to run: stg L, stg Rt, light board, sound board. Houses with a fly will require a 5th crew fly op. The Rumi Concert TD will work in tandem with the house crew.
Concert Fee: Proportionate to venue size. Please inquire.
Informal & Alternative Spaces: TBD, generally less than formal concerts
Concert fees include the concert, artist airfare, hotel and per diem.
The Presenter provides the venue, marketing, box office, front-of-house, tech crew for load-in and running. The Presenter is responsible for local ground transportation for the artists and some hospitality requirements as per the contract rider.
Marketing: The Rumi Concert will provide digital files for print and web promotion. The Presenter assumes the cost and execution of local marketing. We provide the show, you provide the audience.